"Gift from a friend" has been introduced
A new module called "Gift from a friend" has been introduced. You can just add the required images to cart and check the box "Make gift to friend" when paying. You will get a form for you to enter the e-mail and message for your friend.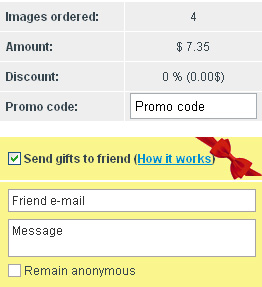 You can enter any e-mail you know. In case this e-mail is already in our user database, that user will get the possibility to download your gift from their account.
If no one is registered with this e-mail address at the store, the gift addressee will just have to register and download the gift form the account.
In both cases, the gift addressee gets notified of the fact you made the gift along with instructions on how to access it.
Now you don't need to remember which e-mail is your friend's PayPal ID anymore!
(new) We have added a new function – the gift certificate sender can remain anonymous. You just need to check the box "Remain anonymous" when filling out the form and the addressee does not know who the gift is from.