Meet our team!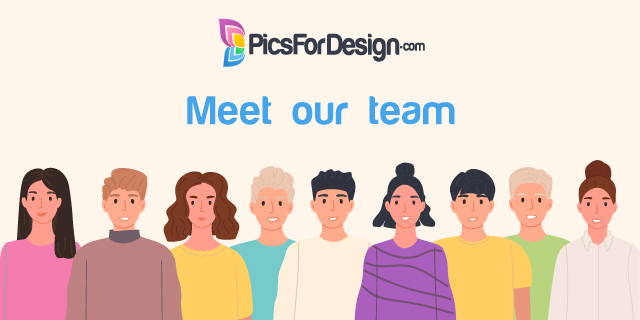 Hello, dear readers!
Today we would like to tell you about the people behind picsfordesign.com. Currently our team consists of 9 people. Our CEO's name is Alex. He is the head and founder of TMT Soft group, which now owns this site. Alex is a sharp-witted and energetic person, that's why he started as a programmer and ended up becoming a CEO of successful company. He's the brain that generates ideas for PFD.
You probably already know our lovely support, Julia. She describes herself as the voice of PicsForDesign.com support service for 10 years, a mother of three bilingual children, and a lucky wife to the kind of man who will support any kind of crazy idea (and fight shoulder to shoulder to make it happen). She says: "I'm all about cramming as much good stuff as possible into a single day – life is too short and awesome to be wasting any minute. My mission as part of PFD team is to sort things out as quickly as possible – and put a smile on your face."
Julia works a lot with our programmers – Pavlo and Vladimir. Pavlo is a DepOvs Server administrator. He's the one always working to solve your problems and make your experience on website as pleasant as it can be. Pavlo is a cheerful person who likes active rest and he's always making jokes on team meetings. Vladimir focuses more on developing new features on our site. Previously he was engaged in the automation of workplaces at a metallurgical plant and developed banking applications. He has the 1st kyu in Aikido Yoshinkan. His hobby is practical shooting with carbine and pistol.
Our QA engineer, Sasha, helps programmers make PFD better. He's a humble, reliable and hardworking person. He says: "My life is quite ordinary. I position myself more like a family man. I spend my free time with my son and wife. Also, I study English and try to delve into the profession and the IT sphere in general. I prefer active rest. If possible (depending on the weather) spending time in nature. It can be hiking and camping, well, something like that. From sports I prefer active team games such as football and basketball. I am also fond of playing chess."
Next is or web and ux/ui designer, Lilith. She was born in Armenia and traveled the world quite a bit. Her current location is Moscow. She became interested in web design in high school and graduated from university as a software engineer. She joined PFD's team in 2021and now is designing web interface. Lilith loves sports, reading and studying Spanish. She also enjoys gardening.
Anastasia is a marketing specialist who joined us several days ago. She graduated from university as a banker, but found this career boring and decided to pursue a new one. She has a son, who is working hard to become an athlete. Anastasia loves cooking and reading.
One of the content creators of ours is Michael. Several years ago he drastically changed his career and became a video editor. He studies a lot, because in this industry trends change every month. Not only he edits videos, he also films a lot of his own materials – he loves travelling. He says: "I love sports, active leisure, challenges, good books and conversations. For 15 years I'm combining active lifestyle with type 1 diabetes, but it only makes my life even brighter".
The one writing this text is Darina, a content manager. I'm Rzhevskii's oldest daughter. I love dogs and own six of them. Currently I'm working on my PhD in cultural studies.
Our team wishes you to be healthy, happy and doing what you love. Thank you for your attention! If you'd like to ask any of our team members about something, please, do it in the comments.