Exclusive Club: get unique pics from your favorite artists!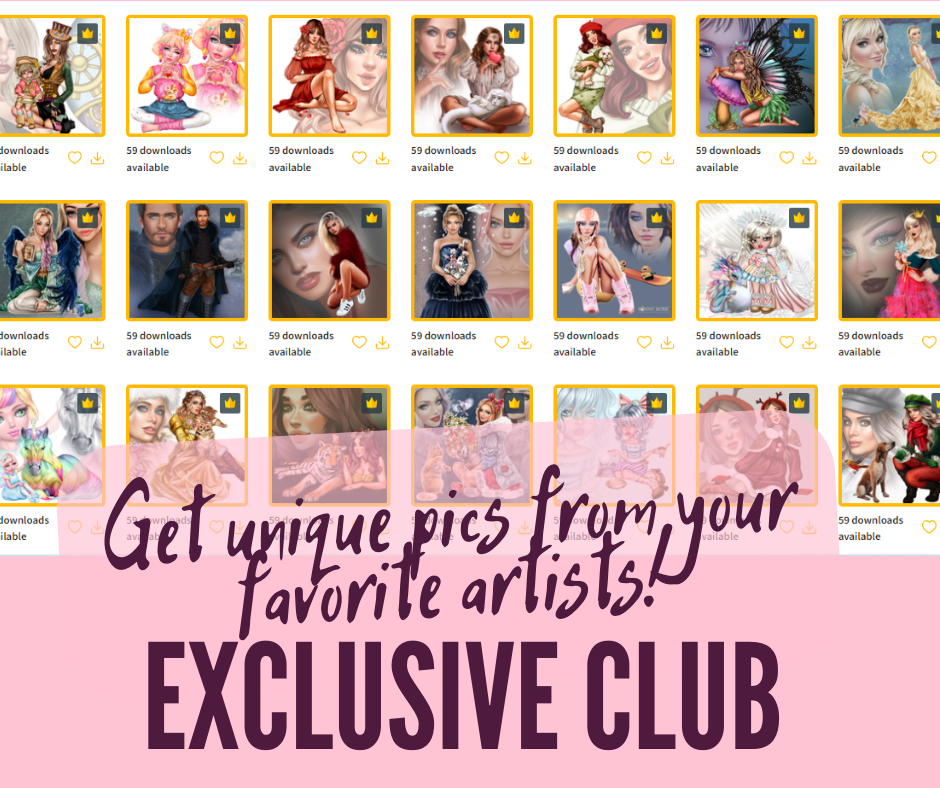 Hey there! This time we will tell you about the Exclusive Club. This product allows our customers to get exclusive pictures and some other privileges.
What are exclusive pictures?
These are unique images created by our most popular and talented artists such as Misticheskaya, Trinita, Alehandra_Vanhek, Kajenna, LadyMishka and more. They cannot be purchased under the PU only license, they are available for download only to the members of the Club. However, for commercial use, exclusive pictures are available to all customers of our site. They can be purchased under CU Basic, CU extended and CU Unlimited licenses.
What other privileges do members of the Exclusive Club have?
The ability to view full size versions of all PSP tubes and additional bonuses when investing in Prepaid projects. For every $5 invested, they receive an extra copy of the picture friends. They also receive a loyalty bonus every month. It is a free picture from our artists.
What are the conditions?
You can buy 1 month membership, 3 month membership, 6 month membership or 1 year membership. Within 5 minutes, your account status will automatically change from Regular to Exclusive. 1 month membership gives you 4 exclusive downloads for a period of 30 days. 3 month membership gives you 15 exclusive downloads for a period of 90 days. 6 month membership gives you 30 exclusive downloads for a period of 185 days. 1 year membership gives you 60 exclusive downloads for a period of 370 days.
You can download your exclusives any time during your active membership.
If your membership expires and you still have downloads left, you will not lose them. However, the downloads will not be available while you do not have an active club membership. Any remaining downloads will become available to you only once you've purchased another membership.
If you buy another 1-month membership BEFORE your current 1-month membership runs out, you get +1 download (with a total of 5 for the month, instead of 4).
To get the loyalty bonus in spite of not meeting the purchase requirement (buying three items from the catalogue in the previous month), you must be an active club member on the last day of the month preceding the loyalty gift being given away. Your membership might be running out on that day or you may purchase it one minute before the day is over (our server time!).
Investing 5 dollars normally gets you 1 download for yourself + 4 giftable extras. If you are an exclusive club member at the moment of making your investment, you will get 1 extra copy of the tube for every 5 dollars invested (as a single investment).
You are not charged automatically for a new membership. We are currently working on an automatic subscription to the Club so that you won't have to spend time renewing it. With automatic renewal, you will also receive a discount. You can terminate the subscription any time, in the future it will be possible to cancel auto-renewal.
If you have any questions about the Exclusive Club, please, ask us in the comments or contact us at support@picsfordesign.com. We'll be happy to help!