PicsForDesign's FAQ for creators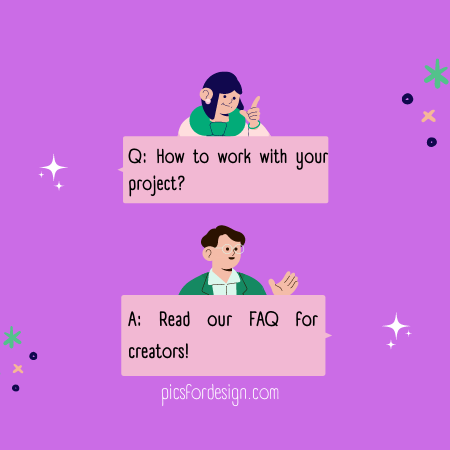 Hey there! We get a lot of questions from our beginning creators, so we decided to answer the most common ones in this post.
Q: How to become a seller?
A: Contact our technical support specialist Julia Anderson at
support@picsfirdesign.com
and send us your portfolio or tell us where do you get your scrap kits elements/resale products from. If you meet our level, we will register you as an artist and tell you what to do next.
Q: How much do artists earn on your project?
A: There are no fixed amounts here, since a lot depends on the popularity and talent of the artist. In-demand authors earn around $500-$1,000 per month.
Q: What are the platform requirements?
A: We expect good drawing skills and respect for the rules of the site from artists, as well as the copyrights of others. We will write more about this in another post, but the most important thing is not to steal other people's drawings, photos and ideas. This can end up in litigation and cost both the artist and the project dearly. You should also know English at a level that will allow you to work with the site with the help of an online translator.
Q: How can I withdraw the earned funds?
A: Artists can withdraw their salary to Webmoney wallet, PayPal account, MIR card or bank transfer.
Q: Who buys your illustrations?
A: Designers, business owners and psp taggers. The project has more than 7,000 active customers, every day they make about 200 purchases on the site.
Q: What products does your site offer?
A: Our main product is stock illustration. It is sold under 4 types of licenses, which differ in cost and rights to use the drawing, which the buyer receives. There are licenses for personal and commercial use. They are
PU Only
,
CU Basic
,
CU Extended
and
CU Unlimited
.
We also offer our clients a membership in the
Exclusive Club
. Its' catalog is filled with unique drawings by our most popular artists, which we order especially for it.
Another product of ours are the
Prepaid Projects
. It's a good way to earn some money for our artists. Read more about them here.
Q: What drawings are popular on the site?
A: Images of beautiful girls, handsome men, cute animals and children, as well as fantastic humanoid creatures – mermaids, witches, vampires, etc.
Q: I have a question or need help. What do I do?
A: You can ask our technical support specialist at
support@picsfordesign.com
or in the comments below. You will receive an answer within a day. Here you can ask any questions related to the site and report any problems.