Just two candles to blow off, but so many loyal friends already!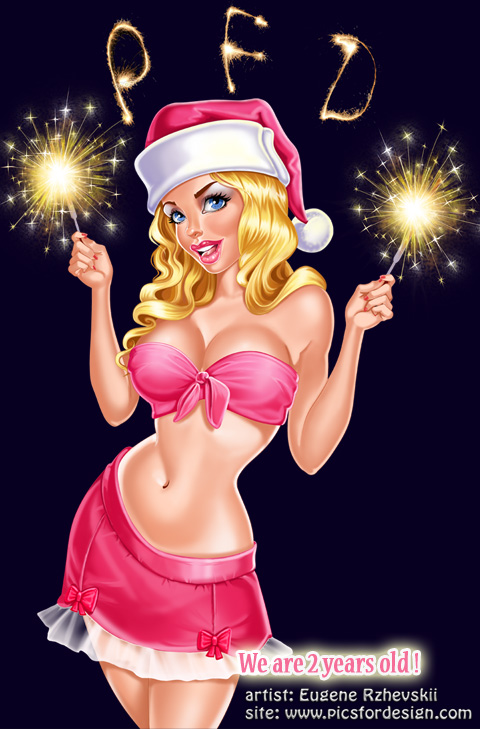 Dear friends, we are happy to let you know that today, on December 19th, our store celebrates its second birthday!
This year turned out to be very difficult for us due to the Euro-zone crisis, attacks on our servers, major changes in our team and many other obstacles and factors that affected our work in some way.
Nevertheless, we are here to celebrate our second birthday. Over the last year we have grown considerably: there are 2,900 images on the catalogue and the number of taggers has reached 5,380 people. We have come up with quite a few new features to make your life easier (wish list, automatic promotions from artists and scrap kit designers etc.).
We started selling scrap kits, accepting many new artist and scrap kit designers into our team. We even gave the whole printing thing a try, making T-shirts and mouse pads. We never failed to reward our loyal customers with monthly bonuses and were generous with other goodies.
Hopefully we lived up to your expectations this year, but there is a lot more yet to come in 2013. We intend to amaze and pamper you like never before.
Our entire team would like to THANK YOU for being there, for supporting our artists and taking such active part in our store's life. Stay healthy, joyful and gorgeous in the New Year and years to come.
Yours truly,
PicsForDesign
---
Starting from our birthday and up until the end of Christmas we have activated a special promotion code that gives you a 20% discount on all PicsForDesign products. The promo code is valid from December 19th, 2012 (00.01 GMT+1) to December 25th (23.59 GMT+1).
Remember to buy your tubes or kits with a 20% discount, entering the promo code PFD20 and clicking RECALCULATE before you proceed to check out.
Everyone that purchased at least one product in 2012 at Picsfordesign gets an exclusive gift from Rzhevskii to celebrate our second birthday!
Whoever missed their chance to make that one purchase, you have a chance to do so up until 31st of December. On this day we will be dong the second round, gifting this exclusive gift to those who still do not have it.