We are one year old! Whoo-hoo!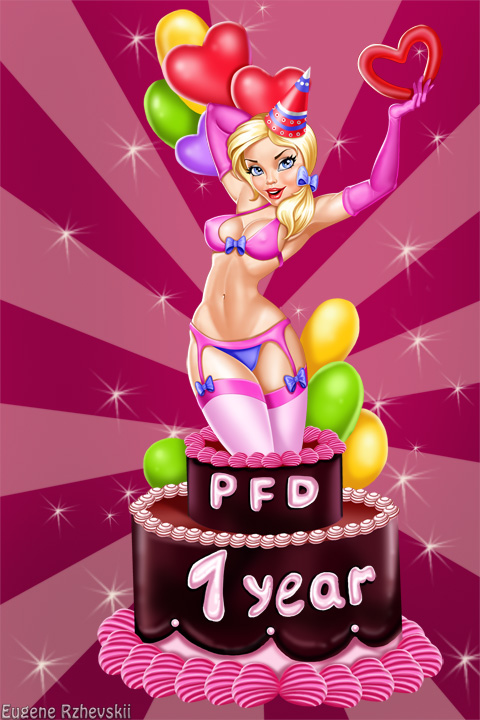 Our birthday is coming, and we are so glad to share the joy with you!
Over the period of our existence we got almost 2000 customers, our catalogue contains around 1000 images and 1500 people from all over world visit us every day. There is a lot we can offer, but our tightly knit creative team of artists and staff members is the cornerstone, and we are all happy to make you smile every day.
But those are just the numbers. There are also so many thoughts and emotions we would like to share. This year was very emotional and filled with so many events, we have enough material for a book combining genres of horror, detective story and adventure. Rzhevskii's website got a new home, we had to fight the pirates, deal with drama in tagging communities, keep our eye on the issue of plagiarism and respond to threats. There was even an attempt to buy us out! But we are still here with you, a team of professionals ready to work for your pleasure for years to come. We are hopeful we live up to your expectations every day and you never feel left out.
Today we are celebrating our very first birthday, our entire family with two thousand enthusiastic and creative members. We are happy to invite you to share the joy of this celebration with us! Please remember to download a gorgeous free tube to celebrate PicsForDesign birthday and buy our pictures with amazing discounts for a few days !
*** Only on this very special day, December 19th, we will be selling ALL the pictures on the catalogue with a 40% discount, as well as the Exclusive club membership! The discount is valid from 00.00 to 23.59 on December 19, our server time (GMT+1, which is London time + 1 hour).
*** On December 20 and 21 the discount on all tubes is 30%. The discount is valid from 00.00 December 20 to 23.59 December 21, our server time (GMT+1, which is London time + 1 hour).
*** From December 22 to December 26 the discount on all tubes is 20%. The discount is valid from 00.00 December 22 to 23.59 December 26, our server time (GMT+1, which is London time + 1 hour).
To get the discount, please enter promo code PFD1. Please make sure the promo code is accepted and do not pay until you see the old price is crossed. The promo code is the same for all the type of discounts, the discount will be less and less according to the plan above. Don't miss out on this opportunity!
Now it's time to celebrate!