Illustration Store Magazine (5th ISSUE)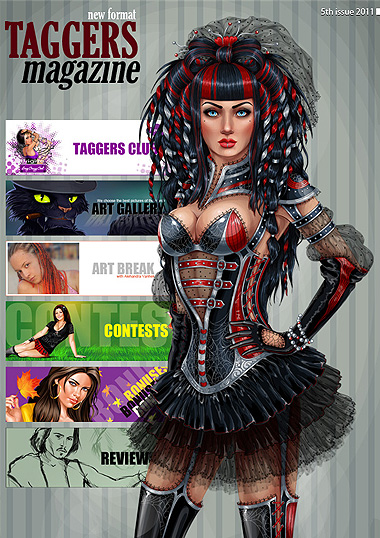 This magazine is our humble attempt to bring the creative work of talented artists and their world closer to you. It may not be one of those large glossy magazines with millions of people anticipating the monthly issue, but we are going to work hard for it to give you at least several minutes of joy, every month.
February 2011. 1st ISSUE. Download (Times: 3230)
March 2011. 2nd ISSUE. Download (Times: 2061)
April 2011. 3rd ISSUE. Download (Times: 1778)
May 2011. 4th ISSUE. Download PDF (Times: 1846) / JPG (Times: 1435)
Summer 2011. 5th ISSUE. TaggersMagazine.com
This magazine is for your pleasure. You can learn more about your favorite artists and get to know them better as people, as well as professionals. You will find a lot of other information ranging from very useful to highly entertaining. We rely on your opinion and ideas, because we would like it to be our common project in a way. You can contribute and make it better. We will be thrilled to get your feedback and ideas for future issues, giving each one of them our careful consideration. Stay with us for more and don't keep your great ideas to yourself: let us implement them on pages of our monthly issues!