Cases of multiple tubes from picsfordesign.com being shared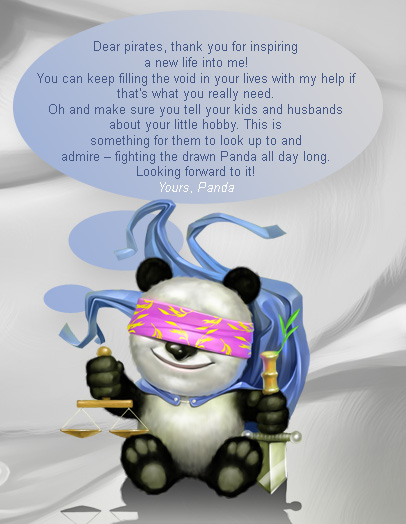 We get letters from our customers that contain information about multiple cases of numerous images from picsfordesign.com being shared. For two weeks we have been monitoring the situation and taking action, so we are now ready to comment on it.
Who does it
It's a small group women from Florida and other US states (it's information that's openly available, we do not collect it n any special way).
Why they are doing it
Well, they are fighting against our Themis Panda, believe it or not, and this is what they proclaimed. However, the fight of adult females against a drawn character is the kind of diagnosis that's out of our competence, because this should be determined by qualified professionals only.
Who may need shared tubes and why
Everyone must be interested to see the full version of our pictures, especially in PSD format, because PicsForDesign sells beautiful pictures with plenty of unique layers that can be enabled or disabled. We understand how amusing it can be for many and do not prohibit to download the pictures that have been shared. The thing is, however, they are good for nothing except for viewing them in such cases. PicsForDesign keeps track of the purchase history for every customer and we know exactly who purchased what and when. If we see a design of a website or blog, or a tag, we check the license and the owner to see if they purchased that picture. If they did not, they will have to remove the design or the tag. So, taggers do not really need shared tubes for anything.
Can sharing harm our store and honest customers?
Nope, no matter how hard they try and how much they share. We love tags and animation that our taggers send, we have regular customers, affiliate forums, we give gifts, hold contests, develop the tagger's community and try to make everyone welcome and comfortable. All this can work only if the tubes are purchased legally and used according to the license terms of use. Our sales have not decreased because of that.
How does PFD protect its artists?
Our artists are the ones who suffer form all the sharing the most. No one enjoys seeing their pictures uploaded to a file sharing server, after all the hard work and effort they put into it. This is why we came up with special software nicknamed Panda, which allows determining with 100% certainty which account the picture has been purchased from. It's helping us a lot at the moment. The accounts of those violating license terms of use are blocked, we send abuse reports whenever there are any links being shared, and they are removed shortly by those websites. Piracy is something no website condones, not even file sharing websites. Of course, it will not solve the problem of piracy once and for all, but it significantly reduces the losses our artists may suffer because of sharing.
What you can do for us and our artists
If you noticed any cases of sharing, we would kindly ask you to do the following:
1) If this is a group where you can post messages – express your opinion on what's going on;
2) If it's a file sharing website – send us a letter that contains links to the tubes shared so that we could file an abuse report and ask to remove the links. You can send it to panda@picsfordesign.com. You can be sure your message will remain anonymous.
Do not take any notice of people trying to blame you for spying or twist your arms. You are an honest and responsible customer, and very often a talented artist or designer. You have a right to express your opinion to those who steal openly, so not be afraid to say what you really think. Piracy is impossible to eradicate, as today it has become a part of our society. However, pirates do need to be told who they really are and put on the spot. They have to be made aware they do not belong to the society of honest talented people, because they are nothing but petty thieves unable to fill their own lives with any meaningful activities and hiding their uselessness under the glorious word "rebel raiders".
Always yours,
PicsForDesign.com Team