Quick access to copyright and license information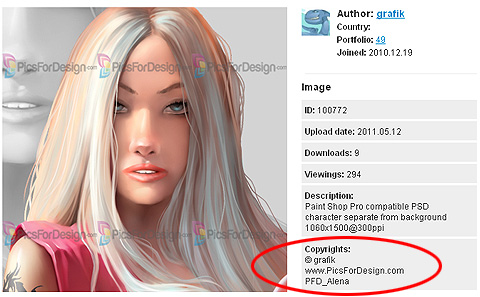 You can see the text "Сopyrights" to the right of an image preview. It includes all the required information you must indicate when using PFD pictures, such as the artist's name, the website and your license number.
We hope this new option will simplify your work and make it more enjoyable.
Only logged in users can see the license number in this line. Enjoy!
NB! When using exclusive pictures, make sure you put "© Exclusive" (or "© Exclusive Club") instead of the artist's name in the copyright. The pictures for the Exclusive Club are ordered exclusively, and PFD is the sole copyright owner. The copyrights of the artist that created the image are available on a separate layer in the PSD file, for informational purposes only.