PFD Prepaid Project (PPP) –exclusive pictures from best artists at micro prices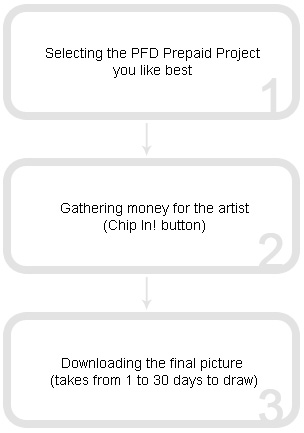 PFD Prepaid Project (PPP) - exclusive pictures from best artists at micro prices PicsForDesign.com has launched a unique project for its loyal customers, which allows getting exclusive pictures at micro prices, as well as order exclusives from best artists and be guaranteed you get them at very tempting prices!
What we offer within PPP
1) Getting exclusive pictures fro different artist at a micro price – just $1
2) Creating pictures based on the customers' preferences
3) Ordering commissioned tubes for tagger's forums and creative communities. It's guaranteed you can get them as promised at a tempting price, with no commission fees to pay, no drama and no troubles of any kind.
How it works
1) PFD administration will publish projects suggested by artists on the website http://pp.picsfordesign.com/. A typical project involves a description of the concept for the picture, and often a sketch is already available. At this point, you have a possibility to leave a comment for the project, and artists expect potential customers' approval or additional ideas for colors, accessories and other details.
2) If you like the project and would like to own the picture the artist ends up drawing, you need to invest a minimal amount required for taking part it the project - $1. Of course, you can invest more.

а) project status (new, active, completed)
b) project publication date
c) project ID
d) project's author
e) amount required for the project to be initialized
f) number of comments to the project
g) money meter
3) To take part in a project, you need to press the purple button Chip in! right below the project of your choice. If you are already registered with PicsForDesign.com and logged in, you will get to the menu in your account Communities / Prepaid projects
Please note! Your investments are accepted only from your PFD account*, not directly from any payment systems. First, you need to add funds to your account (Add funds link). The minimal amount to add is 10 USD. You can use PayPal or credit card to pay. Upon doing this, you can join the project you like selecting the amount you'd like to invest and pressing the JOIN button.
4) All the investments are recorded automatically in the payment history in your account. There you can also view the current status of the project to understand which stage it is at.

5) When the amount indicated by the artist is gathered, he or she gets down to work. The entire process, from discussion of the project and gathering money to uploading the finished picture can take from one to 30 days. The finished picture is added to the accounts of all those participating in the project and can be downloaded right away. All the participants are notified of that by e-mail.
6) If the required amount has not been gathered within 30 days and the artist refuses to start the work for a smaller amount, all the money gathered during the project is returned to the accounts of all the participants automatically and can be used in any of the three ways below. That way, we can always guarantee your every cent is safe.
* You can add funds to your PFD balance via PayPal or by credit card (in the menu 'Add funds' in your account). The units you get to your account are called PFD credits. One PFD credit equals to 1 US dollar. You can use PFD credits to
- take part in any prepaid projects
- buy pictures from PFD catalogue
- gift the credits to your friend's account
Extra options
1) Exclusive gift to a friend
If you invested into a certain project more than the minimal amount ($1), you have the possibility to make your friend a gift. As soon as the picture is added to your account, you will see a link "gift N" in the project status bar, where "N" is the number of gifts you can make. Every dollar on top of the minimal amount you invested allows making a gift to one friend. If you unvested 10 USD, you will get a picture for yourself and be able to make 9 gifts to your friends.
Important! Your friends must be registered with PFD to get the gift, and you need to know their logins for the picture to be added to their accounts too. It's strictly forbidden to share and distribute images outside PFD website.
2) Posting your idea on the website
If you have some idea, you can share it right on the website under your login, real name or anonymously. For that, you have to click Pitch an idea at the top right part of the page. Every visitor can vote your idea 'up' or 'down'. The most popular ones will be taken into consideration by an artist and implemented in a new project. That way, you can become a co-author of some of the artwork our artists create. Please note! The ideas you pitch are not published immediately. Website moderator checks them first, which is not likely to take more than a few hours.
3) Ordering commissioned tubes for forums and communities
If you would like to get an exclusive picture to distribute in your community or on a forum, you can just contact us by the e-mail pp@picsfordesign.com. Please indicate the artist you'd like to for your project, its budget and detailed description of the task. We will take upon ourselves all the remaining arrangements for the project.
Within this order you place, we can always guarantee high quality of the work you receive in the end, as well as the fact this picture will be created exclusively for your forum or community. It will not be available on PFD's exclusive catalogue or anywhere else. In return, we expect compliance with the rules of picture use – it can be given and received only through PFD special gift distribution system. In case of forums, it will be special convenient web interface that allows making a list of forum members receiving gifts, edit them and save them for future use. You will be able to distribute pictures by those lists in just one mouse lick and will avoid any problems related to distributing pictures in any other way.
We are also always open for other cooperation offers within PPP you may have. On our part, we can guarantee strict quality control of the pictures, transparent financial records and no drama of any kind.
Sincerely,
PPP team
www.pp.picsfordesign.com 
pp@picsfordesign.com
Frequently Asked Questions
Why do you say I can invest just one dollar, whereas the minimal amount I can add to the account is 10 dollars?
It has to do with commission fees imposed by the payment systems. The smaller the amount, the larger that commission fee is. That way, we can go into debt when gathering money just because of the commission fee.
After you add at least 10 PFD credits to your account (this is what we call currency units within our system), you can do any of the following:
1) invest any amount into any prepaid projects, $1 being the minimal amount
2) buy pictures from the regular PFD catalogue
3) gift PFD credits to your friends (menu 'Send gift' in your account).
Why do pictures I chipped in for get into PFD Exclusive Club?
There are two reasons for that:
1) To avoid drama and heated arguments on picture copyrights. Everyone who chipped in will always have access to the pictures from their accounts. The artists will never need to worry about what happens to their artwork, knowing it's available by license only.
2) This is a small price to pay for the huge amount of work we did to launch this service. We give 100% of the money gathered to the artists (less commission fees of the payment systems imposed when the funds are gathered and sent).
Why were my ideas in the comments ignored? I wanted the character in a hat, boots and a suit, asked for all that to be removable and green, while the artist drew it without the hat and you can't take off anything?
Comments in projects already published are meant to inspire the artist and give some idea of what people want. Very often, your ideas help a lot, but it may happen so they are very different from the way the artist pictures it. Ideas published in comments to a project do not represent requirements specification for the artist, rather than a source of inspiration.
You can publish your more specific tasks on the special webpage dedicated to it (menu 'Pitch an idea' in the top right menu) and get as many 'up' votes for this idea as possible. Then the artist can choose this idea to implement, determine the price and arrange for the money to be gathered.
I own a forum and would like to order an exclusive from one of your artists through your project. I would like to make sure that picture will not be available anywhere else, including your exclusive club.
It's not a problem at all. You can send the task to pp@picsfordesign.com and specify the name of the artist you would like to order an exclusive from. We will take care of everything including financial arrangements between you and the artist, as well as make sure the deadline is observed and the quality of the work completed is high. On your part, you will just have to guarantee the picture you get will be distributed officially through PicsForDesign distribution interface and all the recipients will be using the pictures strictly observing all the PFD's license terms of use.
I'd like to order an exclusive for myself and my friend only, can I do it through you? It seems convenient, since I cannot wire the money to any Russian artists, and we cannot really discuss all the details in English properly.
Of course you can. PFD Prepaid Projects can be perfect for this very purpose. You can send your request to pp@picsfordesign.com and we will make sure to arrange for that to happen.